Listen: The Walkmen's Walter Martin - "Sing to Me" (feat. Karen O)
Off Upcoming Album, We're All Young Together
Feb 10, 2014 By Mike Hilleary The Walkmen

Recently committed to a prolonged hiatus, various members of The Walkmen have turned their attention to their own individual projects. With band frontman Hamilton Leithauser currently working on a solo record, fellow bandmate and multi-instrumentalist Walter Martin has announced the upcoming release of his own LP titled We're All Young Together. Due out May 13 via Family Jukebox, the record is set to feature guest spots by The National's Matt Berninger, Yeah Yeah Yeah's Nick Zinner, Clap Your Hands Say Yeah's Alec Ounsworth, and members of The Walkmen themselves such as Leithauser and Matt Barrick.
According to a press release Martin began working on the material for the solo effort when The Walkmen were in the late stages of recording Heaven, which coincided with the pregnancy of his wife and his first child. "I began to imagine a record I really wanted to hear: something new and original that captured the essence of early rock 'n' roll - innocent but mischievous, romantic but funny, and unabashedly sweet," says Martin. "It wasn't that I wanted to write songs to suit my new situation as a parent, it was more that parenthood made relevant writing the kind of songs I've always loved most."
In anticipated of the record's release Martin has shared the included track "Sing to Me," which features Yeah Yeah Yeah's Karen O. Also included below is a lyric illustration by Marcellus Hall, who also designed the record's artwork.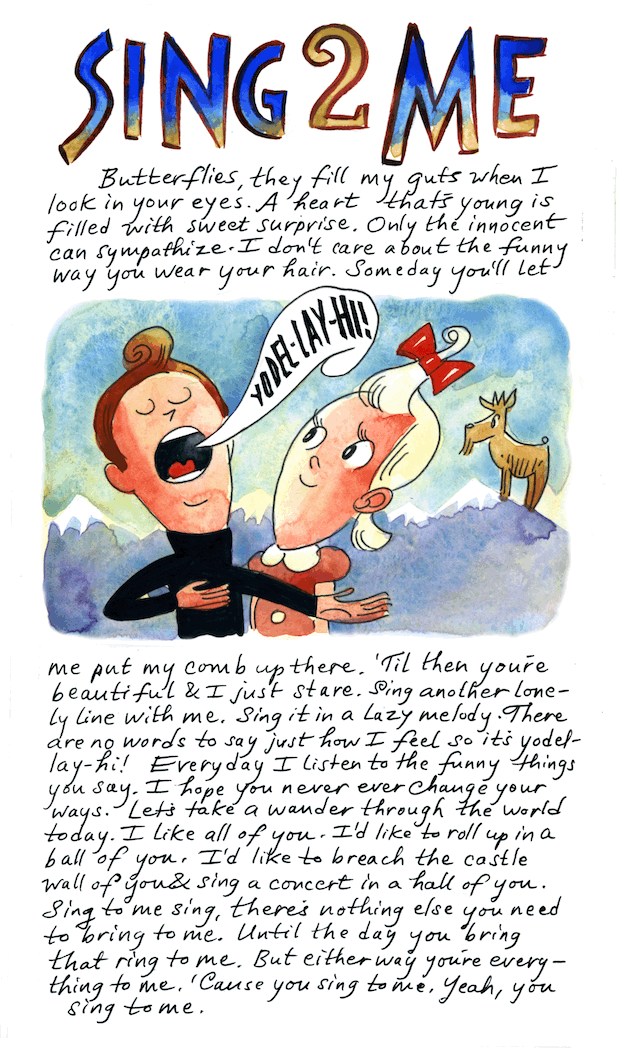 (http://waltermartinmusic.com)