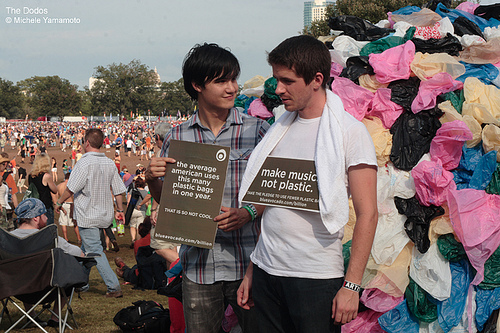 The Dodos: More Rock, Less Plastic!
The Dodos meet Schlumpy at the 2009 ACL Festival
Oct 10, 2009 By Stacie Leonard Photography by Michele Yamamoto The Dodos

During this year's Austin City Limits (ACL) festival, we took a muddy trip with Meric Long and Logan Kroeber from The Dodos for an environmentally-friendly photo op with our new friend "Schlumpy." Kroeber took time to shed some light on his thoughts on the new ball of bags. The Dodos fourth full-length album, Time to Die, is out now and there's an interview with The Dodos in the Fall Issue of Under the Radar, which is on stands now. You can download a copy from iTunes along with the bonus track "Company" by visiting DodosMusic.net.
What was your first thought on seeing Schlumpy, the 8-foot rolling ball of plastic bags, and knowing that this is what the average person uses in just one year?
Logan Kroeber: Well, there was a really cute little toddler posing in front of it when we got there so my very first thought was "Awww, ain't she cute!"
Do you think this will make people reconsider their use of plastic bags?
Probably not, while we were there some asshole walked by making very loud snide comments. I'm sure it made some people think twice though.
It must be difficult to recycle while touring. Do you have any recycling tips you'd like to share with our readers?
Sometimes ecological concerns are trumped by the necessity to keep the van from becoming a cesspool, but if you have a lot of recycling in the van save it till you get to the club as they always have a recycle bin.
"Change the way you shop - for good." Make the move to use fewer plastic bags, and Pledge to Bag Plastic today!
From BlueAvocado.com: Last year Americans used over 100 billion plastic bags. Our goal is to get 1 billion plastic bags off the street within a year. For the first 30,000 views BlueAvocado will donate to women micro-entrepreneurs around the world via kiva.org, so pass it on!