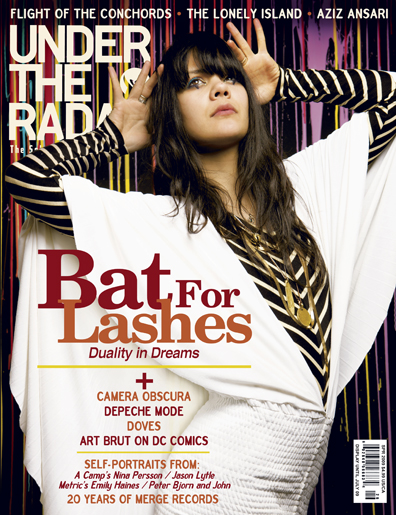 Under the Radar Announces its Spring Issue
New Issue Features Bat For Lashes, Camera Obscura, Doves, The Lonely Island, Depeche Mode, Flight of the Conchords, and much more!
Apr 11, 2009 A Camp By Mark Redfern Photography by Crackerfarm
Under the Radar's Spring Issue will be hitting stands soon. Bat For Lashes' Natasha Khan graces the cover and the issue features an in-depth nine-page interview with Khan that traces the long road to her amazing new album Two Suns.
"I was convinced that I could commune with Kurt Cobain. I used to lie out on my patio in my green cardigan and talk to him while looking at the stars." - Bat For Lashes' Natasha Khan in Under the Radar's Spring Issue
The issue's other main articles include interviews with Camera Obscura and Doves. Plus there's an article on Merge Records' 20th Anniversary, which incorporates interviews with label founders, and Superchunk members, Laura Ballance and Mac McCaughan, as well as with various musicians who have been on the label over the years (including: M. Ward, Robert Pollard, Lambchop's Kurt Wagner, Neutral Milk Hotel's Julian Koster, Destroyer's Dan Bejar, and The Magnetic Fields' Stephin Merritt).
"I think I've come to realize-and this is one of the things that does scare me-that I only manage to write songs when I'm having a good ol' hard time." - Camera Obscura's Tracyanne Campbell
The Spring Issue's Pleased to Meet You section features interviews with these exciting new artists: Findlay Brown, De Rosa, Empire of the Sun, Faunts, Harlem Shakes, Here We Go Magic, Papercuts, Suckers, and Telekinesis.
"When my mom was pregnant with me, my parents went to see Stevie Wonder. He walked over to my mother when they went backstage…[and] he put his hand on her stomach and said, 'I bless this child.'" - Telekinesis' Michael Benjamin Lerner
The Detection section in the Spring Issue includes new interviews with these artists: Akron/Family, actor/comedian Aziz Ansari (one of the stars of the new NBC sitcom Parks and Recreation), Black Moth Super Rainbow, Depeche Mode, Marianne Faithfull, Fever Ray (The Knife's Karin Dreijer Andersson), Flight of the Conchords, The Lonely Island (Andy Samberg and crew, as featured on Saturday Night Live), Phoenix, Pink Mountaintops, and The Veils. Detection also includes an article written by Art Brut's Eddie Argos about why he loves DC Comics so much.
"Thankfully I don't think this a record where you can turn around and say, 'I think they're done.'" - Depeche Mode's Dave Gahan
Over 170 CDs, DVDs, books, films, TV shows, video games, and comic books are reviewed in the Spring Issue's reviews section. The section includes reviews of releases by most of the artists interviewed in the issue, as well as new releases by these artists: Black Dice, Bill Callahan, Neko Case, Cursive, The Decemberists, Peter Doherty, Florence and the Machine, Grizzly Bear, PJ Harvey and John Parish, Robyn Hitchcock, Junior Boys, Lotus Plaza, Bob Mould, Marissa Nadler, Conor Oberst and the Mystic Valley Band, Peaches, Peter Bjorn and John, St. Vincent, Super Furry Animals, Swan Lake, The Thermals, Viva Voce, White Lies, White Rabbits, Yeah Yeah Yeahs, and many others.
Three new regular sections debut in Under the Radar's Spring Issue. The first of these is Self-Portrait, in which we ask an artist to take a photographic self-portrait (or paint/draw one) and then provide a list of at least 10 personal things that their fans may not know about them. In the future, you can expect at least one Self-Portrait article per issue, but for the inaugural section, we hear from four different artists: Metric's Emily Haines, Jason Lytle (formerly of Grandaddy), Nina Persson of A Camp and The Cardigans, and Peter Bjorn and John. Another new section is Classic Album, in which one of our writers champions a classic album. Scott Walker's Scott 2 was picked for the Spring Issue because Walker sings on the fantastic new album by Bat For Lashes, who graces the issue's cover. The final new section, Retro, will focus on something cool from the past. It could be a cult movie or TV show, or a quirky trend from days of yore; the section is completely open. For the first Retro, we actually look to the future, all the way to the year 2000 and beyond to examine how the movies of the past got the future so, so wrong. Back to the Future Part II takes place only six years from now-where are my hoverboard and flying car?!
The future will be bright for Under the Radar as long as you, our readers, continue to support us. If you value what we do and have discovered some great music because of us, then please pick up our new issue (or subscribe) and keep visiting this website!